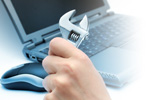 The three maintenance packages that we have available to all of our customers include:
Preventative Maintenance – Level 1
As well as carrying out your Surveys and Calibrations we are also able to offer full support and preventative maintenance for any Ovens, Furnaces and Autoclaves to ensure that you get the best service possible. This includes routine checks of all your equipment at the time of survey and/or calibration, typical areas that are included in this are:
• Elements
• Door Hinges
• Door Seals
• Fan Operation
• Air Flow
• Current Loading
• Electrical Safety Check
Such checks meet the requirements of Nadcap preventative maintenance and all findings would be logged for each Oven & Furnace.
Breakdown Maintenance – Level 2
There are occasions when calibration results fall outside the specified limits and further investigation is required. At this point we would give you the option to allow your maintenance department (if on site) to carry out the repair or undertake the repair ourselves and then recalibrate the equipment or instrument usually within the same day.
Breakdowns can occur at anytime on your equipment and that's why as part of the Level 2 or Level 3 Maintenance Package we can carry out any repairs that are necessary as and when they happen. If you have not specified that you would like one of our packages included in a contract, then a separate call out charge will be applied.
Preventative & Breakdown Maintenance – Level 3
This level is a combination of Level 1 & Level 2 and is a complete package of the best maintenance coverage we can provide you, which complies with Nadcap requirements and reduces your downtime to an absolute minimum. It can be adapted to meet your companies individual requirements.